From the beginning, I knew that each geometric shape within our brewery's logo would represent a different style of beer we make. Our IPA's (including Doubles and Triples) take the upper-left fox ear, in red, and our saisons take the lower right chin, in blue. So what's next? We will be outlining our plans to fill the remaining shapes in an upcoming email to our closest followers—our mailing list members. (Sign up here!)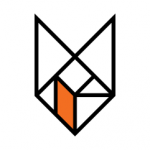 By now, you very likely have seen on Instagram or Facebook that our new series of beer is in the broadly-defined American Pale Ale category, featuring Pacific Northwest hops and Wisconsin-malted grains.
And now, we continue our #beergenesis blog post series, telling the stories behind the beers we brew. Because we don't have enough room to share it all on a beer label. Thank you for Crafting Change with us.
---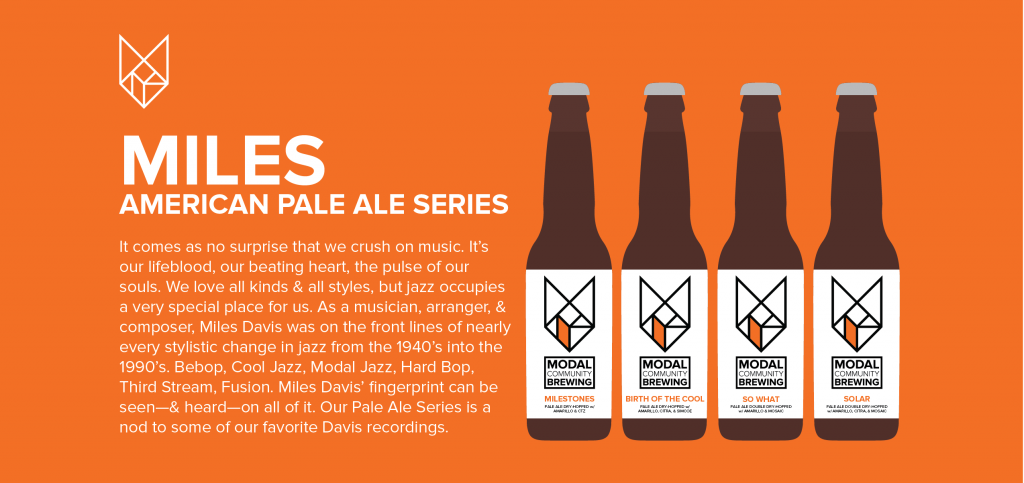 It comes as no surprise that we crush on music. It's our lifeblood, our beating heart, the pulse of our souls. We love all kinds and all styles, but jazz occupies a very special place for us.
In the tragedy and triumph of the life and work of Miles Davis, we all stare into the proverbial mirror, seeing pieces of ourselves. Although his life was plagued by serious vices and countless mistakes (many of them of grave, monumental proportion), Davis' work as musician, arranger, and composer place him among the very greatest innovators of jazz. He found himself on the front lines of nearly every stylistic change in the genre from the 1940's into the 1990's. Bebop, Cool Jazz, Modal Jazz, Hard Bop, Third Stream, Fusion. Miles Davis' fingerprint can be seen—and heard—on all of it.
Our Miles Pale Ale Series is a nod to some of our favorite works featuring Dewey Davis III: his 1957 album "Birth of the Cool", the instantly recognizable melody of "Milestones", the quintessential Modal Jazz jam, "So What", and the Chuck Wayne song, "Sonny", released under the name "Solar" on Davis' "Walkin'" album. (Yes, Davis stole it.)
---
Here are the details on our four new Pale Ales:
BREWED WITH: 2-Row, CaraPils, Crystal, Light Munich, and white wheat malts, & Amarillo, Citra, CTZ, & Simcoe hops.
Milestones: Single-Dry-Hopped w/ Amarillo & CTZ. Fermented with West Coast Chico Ale yeast.
Birth of the Cool: Single-Dry-Hopped w/ Amarillo, Citra, & Simcoe. Fermented with Boddingtons British Ale yeast.
So What: Double-Dry-Hopped w/ Amarillo & Mosaic. Fermented with Whitbread British Ale yeast.
Solar: Double-Dry-Hopped w/ Amarillo, Citra, & Mosaic. Fermented with Norwegian Kveik yeast.
---
Throughout his career, Miles Davis knew how to surround himself with the best musicians, playing alongside them and often recruiting them for his own projects. Many of these bandmates are now similarly recognized as monsters of the jazz genre: Ron Carter, Paul Chambers, John Coltrane, Bill Evans, Gil Evans, Red Garland, Herbie Hancock, Charlie Parker, Sonny Rollins, Wayne Shorter. 
Miles Davis' success wasn't all his own making. Born into a wealthy family, he had many of the right friends and family who made some of his success possible. They picked Davis up when he couldn't get up on his own—literally. But yes, Davis overcame difficult and various other adversities, including growing up Black in East Saint Louis, IL, during the late 1920's. Think of the social change Davis—and all Americans!—lived through from the '20's into the '90's.
---
As a part of the beer-naming process, I spend quite a bit of time researching the subject matter the beers will be named after. For this series, I picked up Miles Davis' autobiography. I'm not done with it yet… But I'm struck by the frankness with which Davis talks about his experiences.
Growing up in Saint Louis during segregation, his family and all their neighbors had to put up with a lot of bull crap (some of it isn't much different still from today). It makes sense that Davis often remarks on his fondness for friends and family who stood up to racist Whites. His dad once loaded up a shotgun and chased after a white teenage boy who had shouted racist slurs at his son, Miles. For Davis' father, mother, and close family friends in East Saint Louis, the Race Riots of 1917 were fresh wounds in their memories when Davis was born in 1926; and that racial tension was undoubtedly a part of his formative years.
Today's message boards on jazz tout that Davis was a legit pimp, selling his friend's sisters to fellow musicians. (If Davis claims that for himself, I haven't read it yet.) He was a heavy drug user for much of his life. Others claim that he notoriously took credit for compositions that weren't entirely his. Particularly, his attributed compositions created during his time with Bill Evans and Gil Evans (no relation) are subject to some scrutiny. 
Here's a little story about one of my favorite Miles Davis tunes, "Solar":
The first two bars of the song, an up-beat blues-like swing melody, is attributed to Miles Davis, but was actually a composition by Chuck Wayne, called "Sonny". It's a long-debated topic, but you can read about it (and hear it) for yourself in a Library of Congress blog post. Read the comments, too. It's not too difficult to see that Davis likely stole "Sunny" and retitled it "Solar". And it's a little more than coincidental that Sonny (the song was named for one of Wayne's friends) could also be interpreted as the homonym "sunny", and Davis took that idea and changed the name to the related "solar". In all, it was a pretty crap move. And what's worse, because of U.S. copyright law at the time, Wayne's estate has no legal recourse or claim to the composition today. (There were major reforms to U.S. copyright law in 1976 and 1998.)
In all, Miles Dewey Davis III's influence on jazz and even rock fusion was monumental. Not many other musicians can compare. But for Miles, with great success also came great shortcomings. His imprint on nearly every now-known jazz style makes all musicians who come after indebted to his life—the ugly parts and the great. With musician-composers/songwriters like Davis (and SRV and Hendrix and Kurt Cobain, to name a few), as great as they were, we can't help but wonder if they would have been even greater had their lives not been riddled with drug addiction and other vices.
As you drink our Miles American Pale Ale Series beers, consider spinning Davis' Kind of Blue, the greatest-selling jazz record of all time.